About RCR Impact Factor
Articles published in RCR have an high impact on the field. We present some data that may give you an overall idea of our citation performance:
1. Scopus CiteScore 2019 of 2.7. RCR ranks in Q1, best quartile.
2. CiteScore Tracker gives an impact of 3.2 for 2020 (Last updated by Scoups on June 2020. )
3. RCR ranks in Q1 in Scimago SJR. Top 10% in Communication.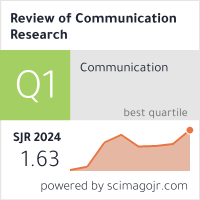 4. The articles published from 2015 to 2019 have been cited an average of 12 times in Web of Science Core Collection (the number has been published by WoS and collected on June 2020.)

5. The average number of citations received by the articles we published in 2013-2019 in Google Scholar is 28.8, SD = 28.3; Median = 19.5; min = 0, Max = 103 (Last updated on October 2019.)
6. The simulated Impact Factor that an external entity (see the source below the image) has calculated using Journal Citation Reports (JCR) statistic is 5.7 for 2018 (Please, note that RCR is not ranked in JCR a nd therefore Clarivate has not provided us with such information.) At RCR, we are sure that the correct number is higher than 4.1, which would make RCR one of the three or four most cited journals in the Communication field. Ask us for more information: This email address is being protected from spambots. You need JavaScript enabled to view it.
Source: https://www.revistacomunicar.com/index.php?contenido=ranking-revistas-esci#Communication
6. RCR has a Scopus SNIP (2019)--this indicator allows to compare impact among fields--is 2.7. RCR ranks #159/8,000 in Social Sciences. It is top 2%.
Do you have any doubts or questions about these calculations? Please, ask the details to the editor. We can prove what we say. Write to editor[at]rcommunicationr.org